If you've come to this page it's because you're probably looking for a way to sell or buy rare coins! Maybe you've already seen all the coins for sale and auctions starting from 1 euro in the coins auctions page, and you've probably also found our guide on how to buy coins online.
All right!
In the following lines we will explain exactly where you can sell or buy rare or antique coins with ease and security even if you are not a Numismatist.

Whether you are looking for a particular coin and have not yet found it, or you want to sell a coin to collect some money, the most convenient and secure solution is the internet.
Selling and buying coins online offers several advantages:
You can do everything from the comfort of your own home without going crazy.
The chances of finding buyers for your coins or finding the rare coins you're looking for are always maximized by the many sellers and buyers available around the world!
It's the most effective and efficient way to reach your goal even if you're not a Numismatist: Sell or Buy Rare Coins!
You have the opportunity to put a coin up for auction for free, a great opportunity to maximize your earnings.
You have at your disposal an expert who evaluates and evaluates lots and coins.
You are guaranteed by an intermediary for secure payments.
You can follow the transit of your coins at any time with the tracking.
You can set a reserve price below which you are not willing to sell your currency.
You will be notified when the currency you are looking for is put up for auction by someone.
You can read all the seller's reviews and ratings in complete transparency.
Many people in the past have relied on the famous Ebay to trade their coins. Surely the ability to put a coin up for auction for free is a great opportunity to maximize our earnings.
Here is how to sell or buy coins?
Today we have another safer and more used service that you can find by clicking here. This auction site deals with the sale and purchase of many coins. Frequented by numismatic experts is the place that we recommend you to start searching for pieces for your collections.
Even if you want to sell rare coins, it's the right place because every item in the auction, before being published, is evaluated by experts who estimate its value.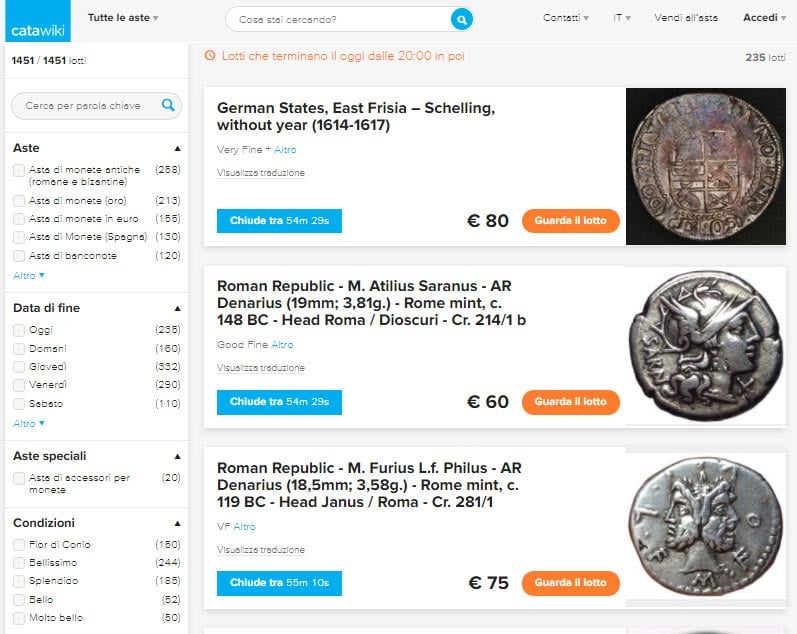 One of the strengths of this website is that it is completely free. You can sign up for free in 5 seconds from this page (after the redirect, on the right you will find a blue button for registration, see the image below) and that's it. You will be welcome in the largest European community for buying and selling coins at auction.
After registering, you can set up alerts so that the auction alerts with the rare coins you are interested in arrive directly in your inbox.
How to register?

And if the auction becomes interesting, you can make your own bid. Or you can create your own auction and earn money with your own coins. You have lots of old euro coins and don't know what to do with them? Create a seller account for free right now by clicking here and put your lot of coins up for auction.
What are you waiting for then? Registering today is free and fast (just put your email in or log in with your facebook account). Take advantage of it and in the future you can always use an account to auction your coins.
Did you know that? In 2015 an old italian lira coin was auctioned on this site. The seller was unaware of the value of the piece and was stunned when the auction reached a gain of 2,500€!
---
You did not find what you were looking for? Check these topics: